Shift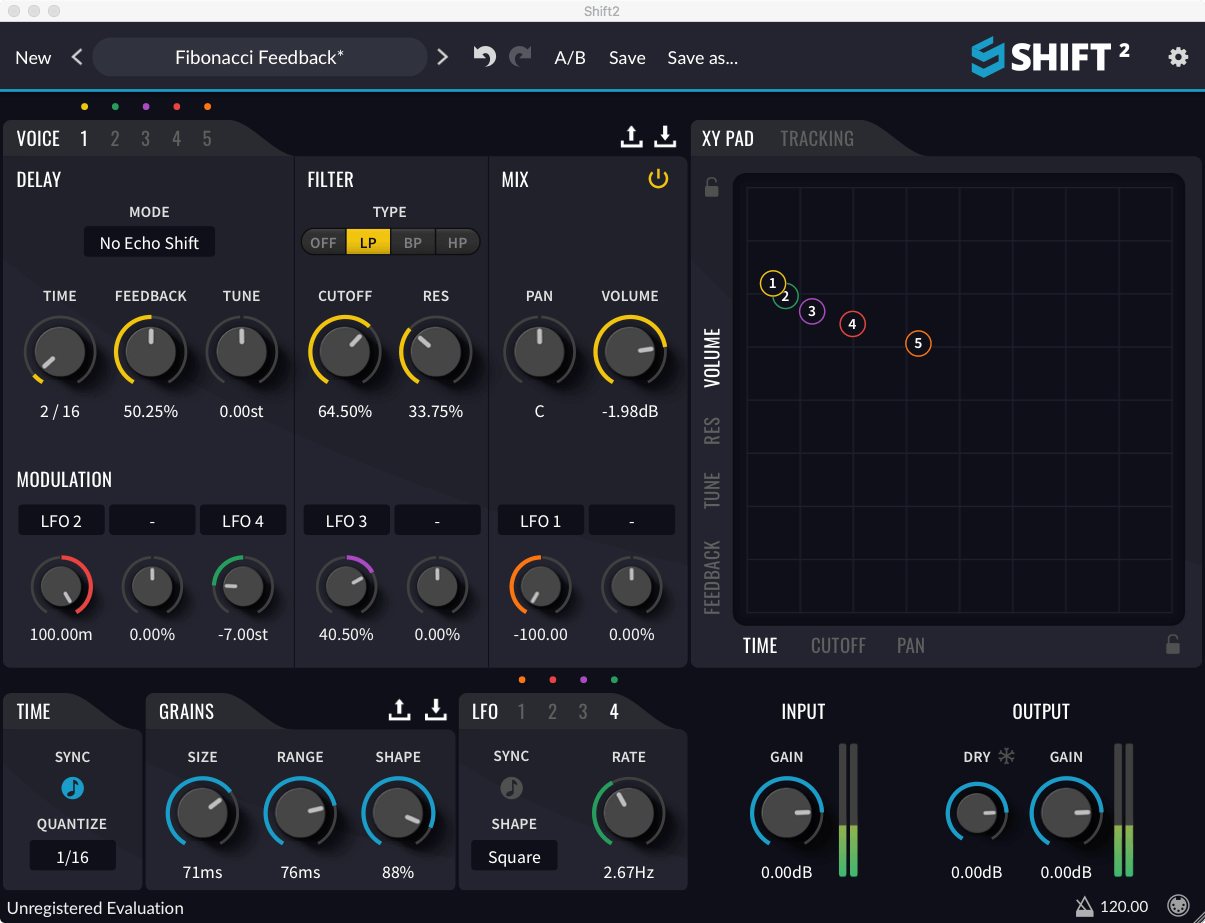 The granular pitch-tracking, pitch-shifting delay.
5 independent delay voices
Real-time diatonic (in-key) pitch tracking
Flexible routing for complex modulations
Shift is a diatonic granular pitch shifting delay that combines an intuitive and beautiful user interface with a great sounding granular synthesis engine. Shift's flexibility allows a palette of timbres ranging from basic echo effects, through intelligent harmonies, to exotic evolving ambient soundscapes.
Granular Delay Voices
Shift has five independent true stereo delay lines, with discrete delay, feedback, pitch shifting, filters, pan, and volume. Pitch shifting comes courtesy of a powerful granular synthesis engine: with a few simple grain parameters, you can create the perfect granular sound, be it for guitar, synth, drums, loops, or anything else.
Diatonic Tracking
A fast and accurate monophonic audio analysis component extracts pitch information, in real-time, for intelligent in-scale pitch shifting and harmonies. Calibrate the tracker to your sound and style using the built-in tuner.
XY Grid Control
Perfect your preset design: use the XY grid to control the seven main delay line parameters in real-time, or to get at-a-glance feedback on the overall preset shape.
Extensive Modulation
A comprehensive modulation matrix allows each delay voice parameter to be independently modulated. Modulation sources come in the form of four tempo-syncable LFOs, each producing five modulation shapes: sawtooth, sinus, triangle, square, or stepped random noise.
Scaleable Interface
Shift's beautiful interface can be resized to ensure crispness and clarity at any screen resolution.
Presets
Shift comes with a collection of over 100 presets, from the simple to the exotic, each tagged ready for searching, and annotated with playing suggestions. Listen to a preset in context with 'hot-swap previewing'. Create partial presets to build up a library of delay voices, grain engine, and diatonic tracker settings.
MIDI Learn
§Controls can be easily mapped to a hardware controller using the simplified MIDI Learn feature.
Buy Shift
£45
(+ VAT where required)
Buy securely online.
A personal licence key will be delivered by email immediately upon purchase.
Try Shift
Download a non-expiring trial of Shift for Windows, macOS, or Linux.
No sign-up required.
Custom presets can be saved, but not loaded. The full registered version can open presets created with the trial version.
Shift will stop processing audio after 30 minutes of continuous use. To continue using it, restart your DAW.
Sounds
Whammy Harmony

A wailing guitar riff: first dry; and then with added parallel fifth and octave harmonies; finally the harmonies only with no dry signal.

Diatonic Tracking

A plucky guitar piece: first dry; then with added diatonic third and diatonic fifth harmonies; finally with the harmonies only. Here, Shift is analyzing the guitar signal and in real-time setting the correct harmonies for the specified scale and key.

Glass Echo

A short guitar line, first dry, and then with staggered echoes pitched a parallel fourth and fifth above source.

Drum n Bass

A drum n bass loop, first dry, and then live playing of the XY Pad to tweak the tuning, filter cutoff, and filter resonance.

Pure Pitch Shift

A simple demo showing the quality of Shift's pitch shifter at its extreme settings. An up-beat guitar noodle, first played dry, and then shifted to the extreme of an octave up.
Downloads
Need an older version? If you are a registered Shift owner, previously released versions are available
on request
.