String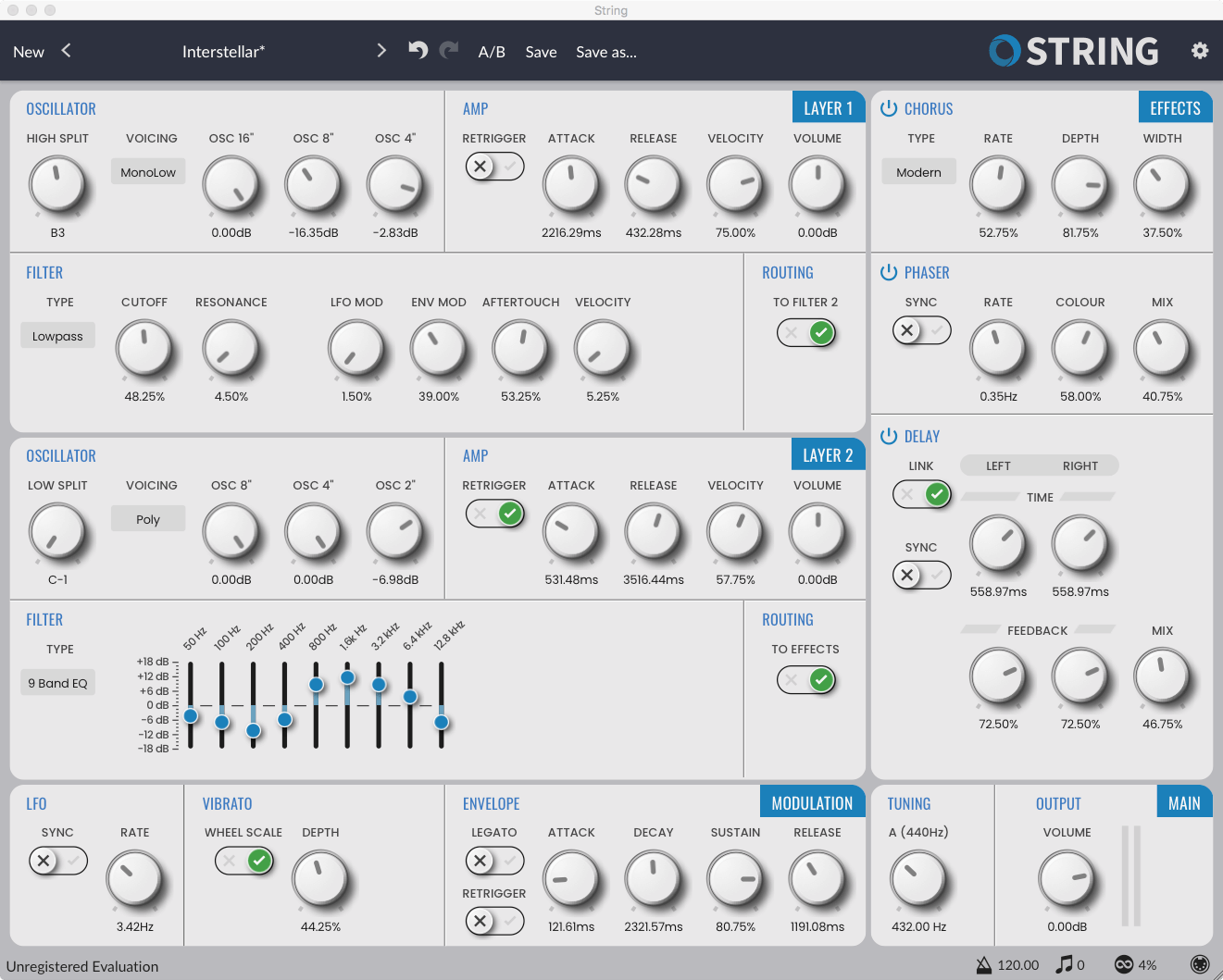 The ensemble synth.
Authentic ensemble synth sound.
Flexible routing and split layers.
Comes with separate FX plug-in: use the effects section with your other synths.
String is a virtual instrument that emulates the beautiful sound of the polyphonic string synthesizer.
Divide-Down Oscillators
String's authentic tone comes from its accurate emulation of the divide-down oscillator technology behind the lush ensemble synths of the 70s.
Dual Layer
String has two individual sound generating Layers, each housing three phase-locked oscillator stops at 16', 8' and 4' ranges for Layer 1, and 8', 4', and 2' ranges for Layer 2. The relative volumes of each stop can be finely tuned to produce an enormous range of timbres. Both Layers have controllable note split points. Layers can be placed so that each is controlled by a specific range on the keyboard, or even overlapped and stacked together.
Five Voicing Modes
Each Layer has its own Voicing Mode from a choice of Monophonic with Last, Low, and High Note Priorities, Paraphonic, and Polyphonic. In Polyphonic mode each voice has its own Attack/Release amplitude modulation envelope. In Paraphonic mode all voices within a Layer share a single monophonic Attack/Release amplitude envelope. The Monophonic Modes produce a single voice, which can be either the Lowest, Highest, or Last note pressed.
Five Filter Types
Layers can be further shaped using the monophonic Filter section. This section has several Filter types; a Highpass / Lowpass pair of filters in series, an analogue resonant filter in either Lowpass, Bandpass, or Highpass modes with various modulation options (including Channel Aftertouch), and a 9-Band EQ. The Filter section can also be switched off altogether.
Flexible Routing
Both Layers can be individually routed into the Effects section. Layer 1 can also optionally be routed directly into Layer 2's Filter to produce serial Filter tones.
Effects
String's Chorus section is modeled on the bucket-brigade device that characterized the sound of the classic ensemble synths. Select from two different Chorus algorithms for either an authentic Ensemble timbre (Type 1), or a more modern, denser sound. (Type 2). A built-in stereo Phaser can be used to add movement, depth, and interest to String timbres. The Effects section is rounded off with two mono bucket-brigade device delay units with independent time and feedback settings, which can be tempo synced, and linked together into a single stereo delay.
Full MIDI Learn
All controls can be easily mapped to a hardware controller using the simplified MIDI Learn feature.
Buy String
£50
(+ VAT where required)
Buy securely online.
A personal licence key will be delivered by email immediately upon purchase.
Try String
Download a non-expiring trial of String for Windows, macOS, or Linux.
No sign-up required.
Custom presets can be saved, but not loaded. The full registered version can open presets created with the trial version.
Sounds
Epic Solina Split

A Solina style patch 'ENS Epic Split' playing a simple chord progression backed with a Minipops style cheesy drum beat. The Layers are split so that Layer 1 plays notes up to B3, and Layer 2 from C4.

Phased Strings

A patch based on the preset 'STR Alex Orange' with Layer 1 playing a slightly resonant string bass sound, and Layer 2 a heavily phased and chorused synth string pad line.

Dry Pad

Just two sustained notes a fifth apart using the 'PAD Geogaddi' preset, this demo shows how rich and deep String's oscillators sound even with little additional processing.
Downloads
Need an older version? If you are a registered String owner, previously released versions are available
on request
.